Ortaokul 5. Sınıf İngilizce Dersi 4. Ünite My Daily Routine
Ünite Kazanımları
Naming numbers
Telling the time
Describing what people do regularly( Making simple inquiries)
| | | |
| --- | --- | --- |
| Daily routine: Günlük işler | Wash hands: El yıkamak | Wash face: Yüz yıkamak |
| Get on the bus: Otobüse binmek | Have breakfast: Kahvaltı yapmak | Brudh teeth: Diş fırçalamak |
| Comb hair: Saç taramak | Get up early: Erken kalkmak | Get dressed: Giyinmek |
| Arrive at school: Okula varmak | Have lunch: Öğle yemeği yemek | Leave home: Evden çıkmak |
| Make the bed: Yatağı toplamak | Play game: Oyun oynamak | Go online: İnternete girmek |
| Feed the pet: Evcil hayvanı beslemek | Listen to music: Müzik dinnlemek | Have dinner: Akşam yemeği yemek |
| Read books: Kitap okumak | Watch TV: Televizyon izlemek | Drink milk: Süt içmek |
İngilizcede sayıları öğrendikten sonra saatleri söylemek çok da zor değildir. Türkçeye göre saatler tersten okunur. Biz önce saati daha sonra dakikayı söylememize rağmen ingilizcede saatleri söylerken önce dakika daha sonra saat söylenir. Şimdi saatleri nasıl sorduğumuza dair iki sorumuzla başlayalım.
What time is it? Saat Kaç?
What is the time? Saat kaç?

Tam Saatler:

 Saatleri söylerken cümleye "It is" ile başlıyoruz, daha sonra saat kaç ise onu söylüyoruz.
10:00 : It is ten (o'clock)
11:00 : It is eleven (o'clock)
12:00 : It is twelve (o'clock) O'clock kalıbını kullansak da olur, kullanmasak da.

Yarım saatler ( Buçuklar) – 

Half past -Buçuklarda "half past" kullanıyoruz. Saatleri söylemeye "It is" ile başladıktan sonra "half past" diyip en son saati söylüyoruz.
07:30: It is half past seven.
08:30: It is half past eight
09:30: It is 

half past

 nine

Geçe, Geçiyor – 

Past

 – Saatleri söylerken önce dakikayı söylediğimizi unutmuyoruz. Önce dakika sonra geçiyor anlamına gelen past ve en son saat.
10:05: It is five past ten
08:10: It is ten

 past

 eight
09:15: It is a quarter 

past

 nine (Saatlerde sayıları kullnmamıza rağmen çeyrek geçiyor derken 15-fifteen demiyoruz bunun yerine 

quarter

'ı kullanıyoruz)
11:15: It is a

 quarter

 

past

 eleven
02:20: It is twenty 

past

 two.

Kala, Var –

 To

 ( Saatler yarım, buçuğu geçtikten sonra artık geçiyor demiyoruz. Bir sonraki saate kaç dakika kalmışsa onu söylüyoruz. Örnek: 10:55 – Saat 11'e beş var
07:55: It is five 

to

 eight
06:50: It is ten 

to

 seven
05:45: It is a quarter 

to

 six (Saatlerde sayıları kullnmamıza rağmen çeyrek geçiyor derken 15-fifteen demiyoruz bunun yerine quarter'ı kullanıyoruz)
03:45: It is a 

quarter

 to four
Every day, I wash my hands and face: Her gün elimi, yüzümü yıkarım.
I have brakfast in the morning: Sabah kahvaltı yaparım.
I play game in the afternoon: Öğleden sonra oyun oynarım.
I watch TV in the evening: Akşam Televizyon izlerim.
What time do you get up? Saat kaçta kalkarsın?
I get up at seven o'clock: Saat 7'de kalkarım.
What do you do after school? Okuldan sonra ne yaparsın?
I read books after school: Okuldan sonra kitap okurum.
Do you have breakfast at home? Evde kahvaltı yapar mısın?
Yes, I do: Evet yaparım – No, I don't: Hayır yapmam.
When do you do your homework?
I do my homework after dinner. Ödevimi akşam yemeğinden sonra yaparım.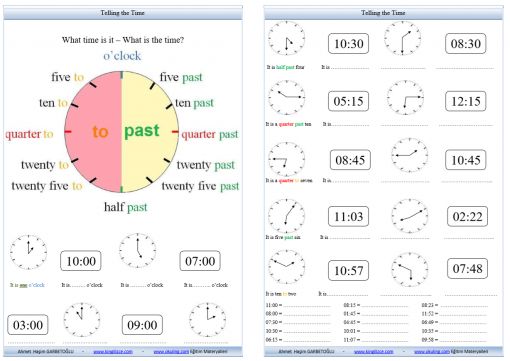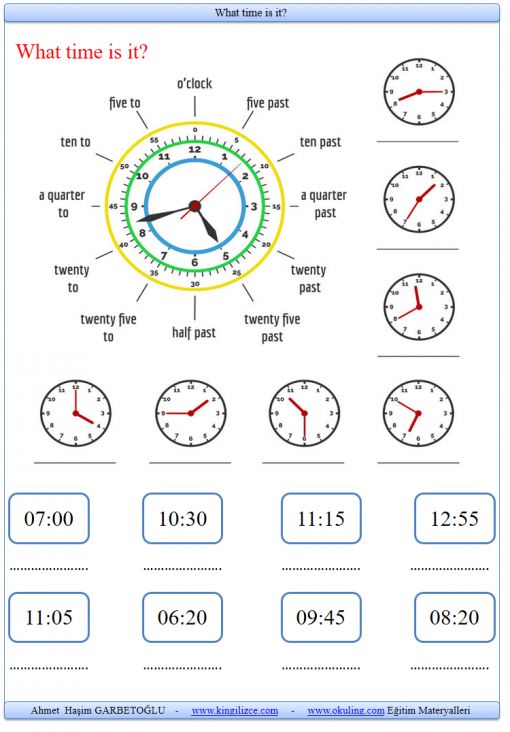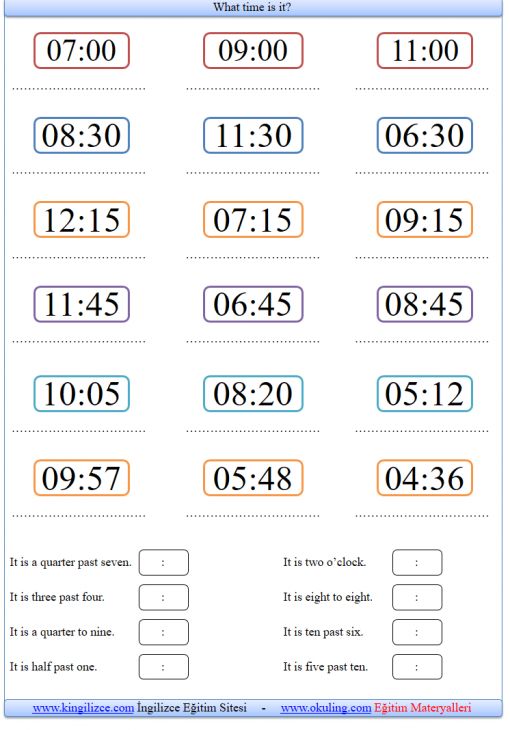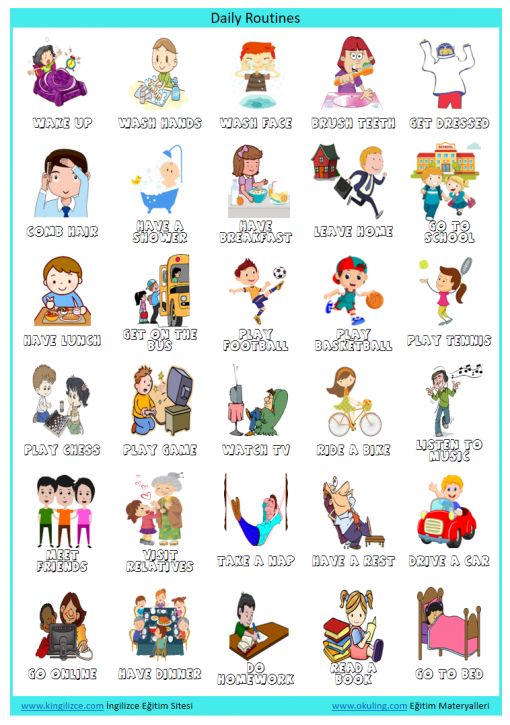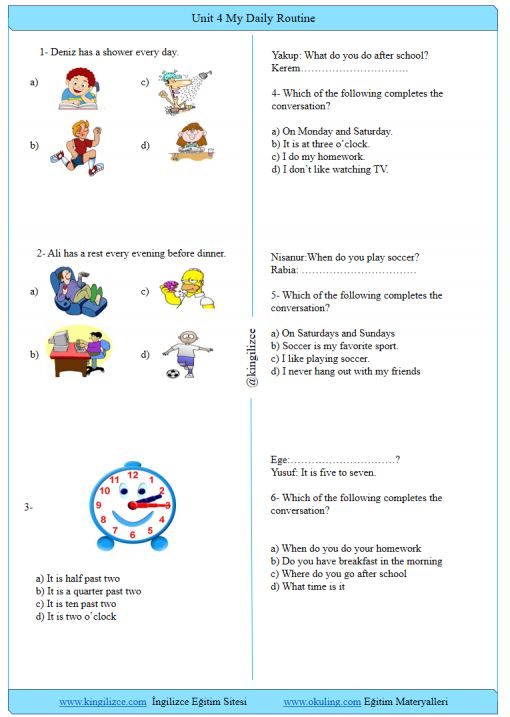 ---
Yorumlar
-
Yorum Yaz
---