Ortaokul 5. Sınıf İngilizce Dersi 6. Ünite Movies
| | | |
| --- | --- | --- |
| Movie: Film, Sinema | Science fiction: Bilim kurgu | Adventure: Macera |
| Horror: Korku | Comedy: Komedi | Drama: Dram |
| Fantasy: Fantastik | Animation: Animasyon | Action: Aksiyon |
| What type?: Ne tür? | Brave: Cesur | Coward: Korkak |
| Beautiful: Güzel | Ugly: Çirkin | Rude: Kaba |
| Kind: Kibar | Lazy: Tembel | Hardworking: Çalışkan |
| Strong: Güçlü | Weak: Güçsüz | Scary:Korkutucu |
| Funny: Komik, eğlenceli | Favorite: Favori | Smart: Akıllı |
What is your favorite movie? En sevdiğin( favori) filmin ne?
My favorite movie is Keloğlan. En sevdiğim film Keloğlan.
What type of movie is it? Ne tür bir film?
It is a comedy: Komedi filmi.
What is it about? Konusu ne, film ne hakkında.
It is about Keloğlan and his adventures. Keloğlan ve maceraları hakkında.
Who is your favorite movie character? Favori film karakterin, kahramanın kim?
My favorite movie character is Keloğlan. Favori film karakterim Keloğlandır.
He is very smart and funny. O çok akıllık- ve komiktir.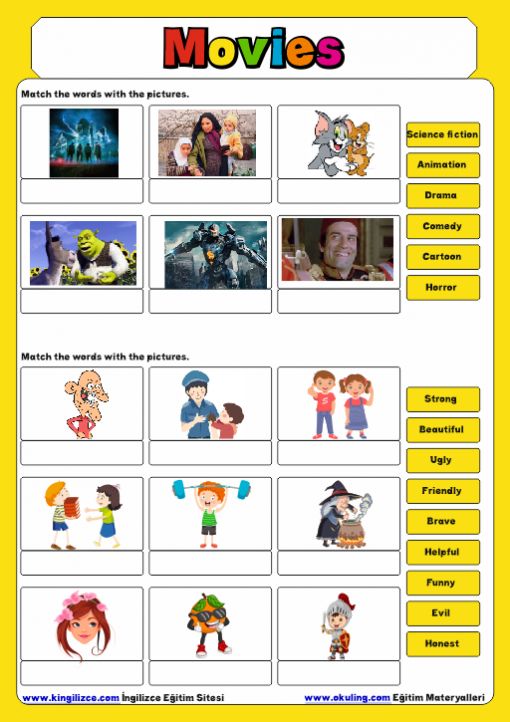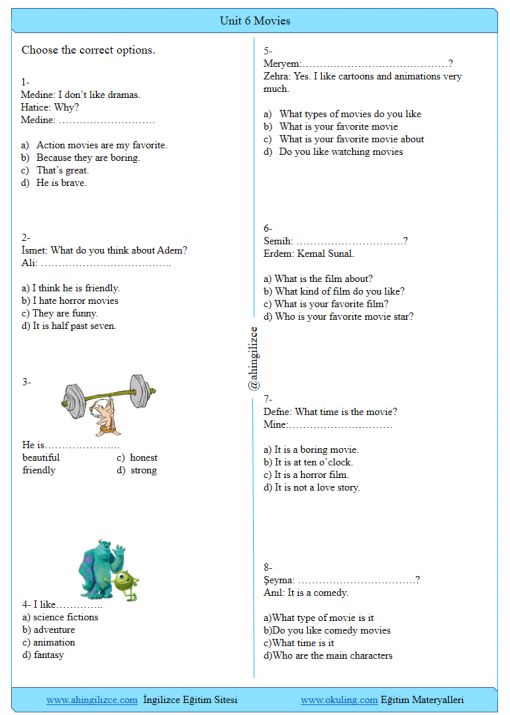 ---
Yorumlar
-
Yorum Yaz
---